A new primer set for amplification of ITS-rDNA in Ditylenchus destructor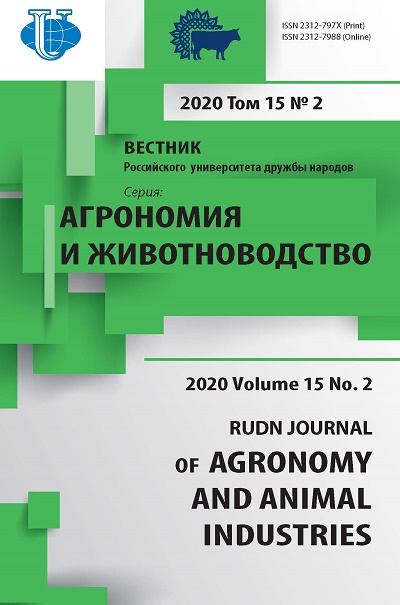 Abstract
A technique was developed for the identification of Ditylenchus destructor nematode belonging to the Ditylenchus genus, based on the use of different primers for polymerase chain reaction (PCR). Two universal ribosomal primers were amplified to the internal transcribed spacer region ITS-rDNA. The sequencing of PCR products confirmed the polymorphism between species. The primers were sensitive to generate a particular band of the correct size (300bp) from the DNA template of a single, separate D. destructor stage of development. Screening populations of D. destructor from Iran and the Russian Federation have tested the reliability of the primers, and the expected size of the band was produced for all test populations. Ditylenchus destructor closely related species have also been tested and no specific band was amplified. Such results showed that the primers currently developed are useful for quantifying the D. destructo r density in potato tuber.
About the authors
Peoples' Friendship University of Russia; All-Russian Plant Quarantine Centre
Author for correspondence.
Email: niloofarmahmoodi@ymail.com

PhD candidate, Department of Agro-Biotechnology, Agrarian and Technological Institute
Moscow, Russian Federation
Semnan University
Email: Kartooli58@gmail.com

Assistant Professor of Forestry, Faculty of Desert Studies
Semnan, Iran
Tarbiat Modares University
Email: niloofarmahmoodi@ymail.com

PhD in Forestry, Natural Resources Faculty
Tehran, Iran
References
Abebe E, Mekete T, Thomas WK. A critique of current methods in nematode taxonomy. African Journal of Biotechnology. 2011; 10(3):312-323.
Blok VC, Powers TO. Biochemical and molecular identification. In: Perry RN, Moens M, Star J. (eds.) Root Knot Nematodes. 1st ed. London: CABI International; 2009. p. 98-112.
Castagnone-Sereno P. Meloidogyne enterolobii (=M. mayaguensis): profile of an emerging, highly pathogenic, root-knot nematode species. Nematology. 2012; 14(2):133-138. doi: 10.1163/156854111X601650
Nega A. Review on nematode molecular diagnostics: From bands to barcode. Journal of Biology, Agriculture and Healthcare. 2014; 4(27):129-153.
Jeszke A, Budziszewska M, Dobosz R, Stachowiak A, Protasewicz D, Wieczorek P, et al. Comparative and Phylogenetic Study of the Ditylenchus dipsaci, Ditylenchus destructor and Ditylenchus gigas Populations Occurring in Poland. Journal of Phytopathology. 2014; 162(1):61-67. doi.org/10.1111/jph.12161
Nowaczyk K, Obrepalska-Steplowska A, Gawlak M, Throne JE, Olejarski P, Nawrot J. Molecular techniques for detection of Tribolium confusum infestations in stored products. J Econ Entomol. 2009; 102(4):1691-1695. doi: 10.1603/029.102.0437
Subbotin S, Maafi ZT, Moens M. Molecular identification of cyst-forming nematodes (Heteroderidae) from Iran and a phylogeny based on ITS-rDNA sequences. Nematology. 2003; 5(1):99-111. doi: 10.1163/156854102765216731
Vovlas N, Troccoli A, Palomares-Rius JE, De Luca F, Cantalapiedra-Navarrete C, Liebanas G, et al. A new stem nematode, Ditylenchus oncogenus n.sp. (Nematoda: Tylenchida), parasitizing sowthistle from Adriatic coast dunes in southern Italy. Journal of Helminthology. 2016; 90(2):152-165. doi: 10.1017/S0022149X14000947
Gutierrez-Gutierrez C, Palomares-Rius JE, Cantalapiedra-Navarrete C, Landa BB, Esmenjaud D, Castillo P. Molecular analysis and comparative morphology to resolve a complex of cryptic Xiphinema species. Zoologica Scripta. 2010; 39(5):483-498. doi: 10.1111/j.1463-6409.2010.00437.x
Vrain TC, Wakarchuk DA, Levesque AC, Hamilton IR. Intraspecific rDAN restriction fragment length polymorphism in the Xiphinema americanum group. Fundam Appl Nematol. 1992; 15(6):563-573.
Marek M, Zouhar M, Douda O, Mazakova J, Rysanek P. Bioinformatics-assisted characterization of the ITS1-5.8S-ITS2 segments of nuclear rRNA gene clusters, and its exploitation in molecular diagnostics of European crop parasitic nematodes of the genus Ditylenchus. Plant Pathology. 2010; 59(5):931-943. doi: 10.1111/j.1365-3059.2010.02322.x
Subbotin SA, Madani M, Krall E, Sturhan D, Moens MJP. Molecular diagnostics, taxonomy, and phylogeny of the stem nematode Ditylenchus dipsaci species complex based on the sequences of the internal transcribed spacer-rDNA. Nematology. 2005; 95(11):1308-1315. doi: 10.1094/PHYTO-95-1308
Vovlas N, Troccoli A, Palomares-Rius JE, De Luca F, Liébanas G, Landa BB, et al. Ditylenchus gigas n. sp. parasitizing broad bean: a new stem nematode singled out from the Ditylenchus dipsaci species complex using a polyphasic approach with molecular phylogeny. Plant Pathol. 2011; 60(4):762-775. doi: 10.1111/j.1365- 3059.2011.02430.x
Pethybridge SJ, Gorny A, Hoogland T, Jones L, Hay F, Smart C, et al. Identification and characterization of Ditylenchus spp. populations from garlic in New York State, USA. Tropical Plant Pathology. 2016; 41(3):193- 197. doi: 10.1007/s40858-016-0083-7
Subbotin SA, Moens M. Molecular taxonomy and phylogeny. In: Perry R, Moens M. (eds.) Plant Nematology. Wallingford, UK: CABI Publishing; 2006; p. 33-58.
Fand BB, Nagrare VS, Deshmukh V, Naikwadi BV, Gokte-Narkhedkar N, Waghmare VN. A simple and low-cost laboratory rearing technique for pink bollworm, Pectinophora gossypiella (Suanders) (Lepidoptera: Gelechidae) using detached green bolls of cotton. Phytoparasitica. 2019; 48:25-33. doi: 10.1007/s12600- 019-00779-2
Liu B, Mei Y, Zheng J. Species-specific detection of interpopulations of Ditylenchus destructor. J Zhejiang Univ. 2007; 33:490-496.
Wendt KR, Vrain TC, Webster JM. Separation of three species of Ditylenchus and some host races of D. dipsaci by restriction fragment length polymorphism. Journal of Nematology. 1993; 25(4):555-563.
Chizhov VN, Borisov BA, Subbotin SA. A new stem nematode, Ditylenchus weischeri n. sp. (Nematoda: Tylenchida), a parasite of Cirsium arvense (L.) Scop. in the Central Region of the Non-Chernozem Zone of Russia. Russian Journal of Nematology. 2010; 18(2):95-102.
Esquibet M, Grenier E, Plantard O, Abbad Andaloussi F, Caubel G. DNA polymorphism in the stem nematode Ditylenchus dipsaci: Development of diagnostic markers for normal and giant races. Genome. 2003; 46(6):1077-1083. doi: 10.1139/g03-72
Kerkoud M, Esquibet M, Plantard O, Avrillon M, Guimier C, Franck M. Identification of Ditylenchus species associated with Fabaceae seeds based on a specific polymerase chain reaction of ribosomal DNA-ITS regions. Eur J Plant Pathol. 2007; 118:323-332. doi: 10.1007/s10658-006-9092-6
Zouhar M, Marek M, Douda O, Mazakova J, Rysanek P. Conversion of sequence-characterized amplified region (SCAR) bands into high-throughput DNA markers based on RAPD technique for detection of the stem nematode Ditylenchus dipsaci in crucial plant hosts. Plant Soil Environ. 2007; 53(3):97-104.
Oliveira RD, Santin ÂM, Seni DJ, Dietrich A, Salazar LA, Subbotin SA, et al. Ditylenchus gallaeformans n. sp. (Tylenchida: Anguinidae) - a neotropical nematode with biocontrol potential against weedy Melastomataceae. Nematology. 2013; 15(2):179-19.