Identification of Ixodidae ticks from cattle imported into the South Kivu province, east of the Democratic Republic of Congo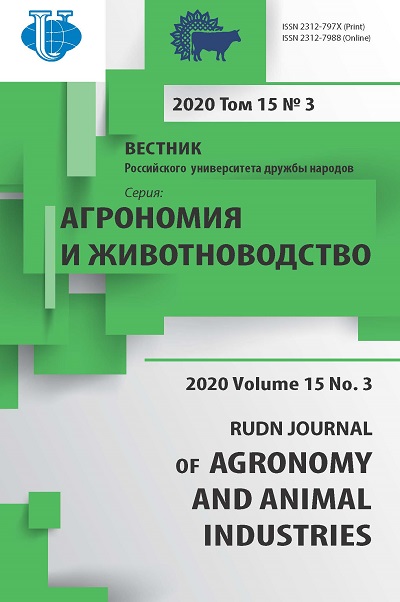 Abstract
A survey has been conducted in Bukavu on bovines imported in Democratic Republic of Congo from Rwanda to the public slaughterhouse of Bukavu, with the aim of identifying the Ixodidae ticks on their body. Thus, 1024 ticks have been collected on 300 cows for the entomological identification. Four species have been identified whose Boophilus decoloratus (44.4 %), Rhipicephalus appendiculatus (43.9 %), Amblyomma variegatum (11 %) and Ixodes thomasai (2 %). This last species being a new among those recognized in South Kivu. A charge to ticks of 6.5 has been observed at those bovines and the infestation rate has been significantly different in the 4 races, the Friesland (41.1 %) and Ankolé presented the superior values. The importation of cows in this part of the country from Rwanda is a real factor which conducts to the introduction of ticks and also diseases in Democratic Republic of Congo. Then being measures of heath control in the border must be sustained and reinforced for minimizing real risks.
Keywords
About the authors
Lwiro Natural Sciences Research Centre (NSERC-LWRO)
Email: bisusamuhimuzi@gmail.com
Researcher in Environmental Sciences, Head of Veterinary Entomology Laboratory, Research Associate, Department of Biology D.S. Bukavu, Sud-Kivu, Democratic Republic of Congo
Interdisciplinary Centre for Continuing Education (Cidep)
Email: ebmara@gmail.com
Assistant Bukavu, South Kivu, 1550, Democratic Republic of the Congo
Lwiro fiftieth anniversary University (UNI-50)
Email: mb.donatien@gmail.com
Caring Agent of animals in community in Kabare territory, South Kivu D.S. Bukavu, Democratic Republic of the Congo
Kuban State Agrarian University
Email: gilbert.nijimbere@ub.edu.bi
PhD student, Department of Genetics and Plant Breeding, Faculty of Agriculture and Ecology Kuban State Agrarian University, 13 Kalinina st., Krasnodar, 350044, Russian Federation
National Institute for Agronomic Research (INERA)
Email: musimwakashamuka@gmail.com
Assistant D. S Bukavu, Democratic Republic of the Congo
Catholic University of Graben (UCG)
Email: gkambale@gmail.com
- MSc in Animal Health, Faculty of Veterinary Medicine B. P. 29 Butembo, North Kivu, Democratic Republic of the Congo
References
Rodhain F, Perez C. Les tiques Ixodidae: systématique, biologie, importance médicale. In: Précis d'entomologie médicale et vétérinaire. Paris: Maloine; 1985. p.341-350. (In french)
Bisusa MA, Kujirabwinja RE. Présence de Hyalomma trucantum, une nouvelle tique de la plaine de la Ruzizi, Est de la République démocratique du Congo, par l'importation des races améliorées des bovins de la Tanzanie et du Burundi. International Journal of Innovation and Scientific Research. 2016; 26(1): 331-340. (In french)
Bazarusanga T, Vercruysse J, Marcotty T, Geysen D. Epidemiological studies on Theileriosis and the dynamics of Theileria parva infections in Rwanda. Veterinary Parasitology. 2007; 143(3-4):214-221. doi: 10.1016/j.vetpar.2006.09.009
Vyambwera G.C.K et al. Parasitisme dû aux tiques en zone d'élevage bovin de Béni-Lubero. Par cours et Initiative, CRIG, Production et santé Animale, 2009; 6, 22-31. (In french)
Bisusa M, Amzati S, Bagalwa M. Distribution altitudinale actuelle des tiques (Acarina-Ixodidae) chez les bovins élevés dans les groupements de Bugorhe et Irhambi-Katana en territoire de Kabare, Sud-Kivu, RDC. Annales de l'UEA, Numéro spécial sur l'environnement. 2014; p.69-80.
Amzati S. Modélisation par enquête rétrospective de l'épidémiologie de la Théilèriose bovine au Sud- Kivu, dans l'Est de la République Démocratique du Congo. [Dissertation]; 2011. (In french)
Ogden N, Mechai S, Margos G. Changing geographic ranges of ticks and tick-borne pathogens: drivers, mechanisms and consequences for pathogen diversity. Front Cell Infect Microbiol. 2013; 3:46. doi: 10.3389/ fcimb.2013.00046
Farougou S. Les tiques et les maladies transmises au bétail en Afrique tropicale: les hémoparasitoses et la Cowdriose. [Dissertation] Bénin; 2007. (In french)
Kalume MK, Saegerman C, Mbahikyavolo DK, Makumyaviri AM, Marcotty T, Madder M, et al. Identification of hard ticks (Acari: Ixodidae) and seroprevalence to Theileria parva in cattle raised in North Kivu Province, Democratic Republic of Congo. Parasitol Research. 2013; 112(2):789-797. doi: 10.1007/s00436-012-3200-7
Morel PC. Maladies à tiques du bétail en Afrique. In: Chartier C, Itard J, Morel PC, Troncy PM. (eds.) Précis de Parasitologie Vétérinaire Tropicale. Paris: Internationales, TEC & DOC; 2000. p.452-761. (In french)
FAO. Report of the FAO expert consultation on revision of strategies for the control of ticks and tickborne diseases, Rome, 25-29 September 1989. Parassitologia. 1990; 32:3-12.
Service MW. (ed.) Encyclopedia of arthropod-transmitted infections of man and domesticated animals. Liverpool: CABI Publishing; 2001.
Uilenberg G. Immunization against diseases caused by Theileria parva: a review. Trop Med Int Hlth. 1999; 4(9): A12-A20. doi: 10.1046/j.1365-3156.1999.00446.x
Kalume MK. Abondance saisonnière des tiques (Acari: Ixodidae) en fonction de système d'élevage des bovins dans la ville de Butembo, Province du Nord-Kivu, République Démocratique du Congo, Ed. Parcours et initiatives. 2012; 9:56-66. (In french)
Madder M, Thys E, Achi L, Toure A, De Deken R. Rhipicephalus (Boophilus) microplus: amost successful invasive tick species in West-Africa. Exp Appl Acarol. 2011; 53(2):139-145. doi: 10.1007/s10493-010-9390-8
D'haese L, Penne K, Elyn R. Economics of theileriosis control in Zambia. Trop Med Int Heath. 1999; 4(9): A49-A57. doi: 10.1046/j.1365-3156.1999.00451.x
Bisusa M, Kalume KM, Masunga MB. Abondance saisonnière des tiques (Acarina-Ixodidae) parasites des bovins élevés dans les territoires de Kabare, Sud-Kivu, RD Congo, parcours et initiation no11, 2013: 226-235 (In french)
Balagizi KI, Ngendakumana S, Mushayuma NH, Adhama MT, Bisusa MA, Baluku B, et al. Perspectives de gouvernance environnementale durable dans la région de Lwiro (Sud Kivu, République Démocratique du Congo). Vertig O. 2013; 17. (In french) doi: 10.4000/vertigo.13826
Faraji F, Bakker F. A modified method for clearing, staining and mounting plant-inhabiting mites. European Journal of Entomology. 2008. 105(4):793-795.
Larmontellerie M. Tiques (Acarina- Ixodidae) de la Haute-Volta. Bulletin de l'Institut Fondamental d'Afrique Noire, Series A: Sciences Naturelles. 1966; 28:597-642. (In french)
Morel PC. Contribution à la connaissance à la distribution des tiques (Acariens, Ixodidae et Amblyommidae) en Afrique Ethiopienne continentale [Dissetation] Paris; 1969. (In french)
Charier C, Itard J, Morel PC, Troncy PM. Précis de parasitologie vétérinaire tropicale. Paris: Technique et documentation; 2000. (In french)
Walker AR, Bouattour A, Camicas JL, Estrada-Peña A, Horak IG, Latif AA, et al. Ticks of Domestic Animals in Africa: a Guide to Identification of Species. Scotland: Bioscience Reports; 2003.
Leroy P, Farnir F. Méthodes statistiques en Médecine vétérinaire. Liège: Faculté de Médecine Vétérinaire; 2001. (In french)
Bisusa MA, Wabo BA, Bora NJ, Mampasi BM, Eugide BR, Christophe NB, et al. Performance reproductive des tiques évaluées dans les conditions du laboratoire, au centre de recherche en sciences naturelles de Lwiro, Sud-Kivu, République Démocratique du Congo. International journal of innovation and scientific research. 2018; 38:1-6. (In french)
Adehan SB, Biguezoton A, Adakal H, Dossa F, Dougnon TJ, Youssao E, et al. Acaricidal activity of ethanolic and volatile extracts of the leaves of selected plants used in veterinary pharmacopeia on the larvae of Rhipicephalus microplus in Benin. Alexandria Journal of Veterinary Sciences. 2016; 49(1):1-11. doi: 10.5455/ajvs.216241
Olwoch JM, Reyers B, Engelbrecht FA, Erasmus BFN. Climate change and the tick-borne disease, Theileriosis (East Coast fever) in sub-Saharan Africa. Journal of Arid Environments. 2008; 72(2):108-120. doi: 10.1016/j.jaridenv.2007.04.003
Gachohi JM, Kitala PM, Ngumi PN, Skilton RA. Environment and farm factors associated with exposure to Theileria parva infection in cattle under traditional mixed farming system in Mbeere District, Kenya. Tropical Animal Health and Production. 2011; 43(1):271-277. doi: 10.1007/s11250-010-9688-x
Gharbi M, Sassi L, Dorchies P, Darghouth MA. Theileria annulata in Tunisia: economic analysis and evaluation of the potential benefit of vaccination. Vet Parasitol. 2006; 137(3-4):231-241. doi: 10.1016/j. vetpar.2006.01.015
Darghouth MA, Bouattour A, Kilani M. Theileriosis. In: Lefevre PC, Blancou J, Chermette R. (eds.) Principales maladies infectieuses du bétail, Europe et régions chaudes II. Paris: TEC & DOC; 2003. (In french)
Boulter N, Hall R. Immunity and vaccine development in the bovine theileriosis. Advances in Parasitolology. 1999; 44:41-97.