Effect of humus preparations on chlorophyl content in leave and potato plant productivity on sandy soil in Moscow distric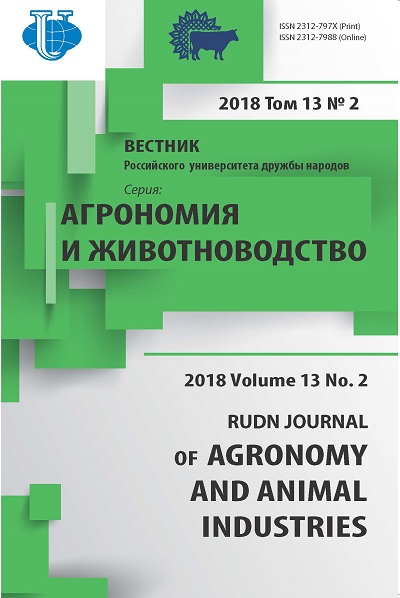 Abstract
Results on evaluation of 'effect of organic preparations LFSC-HA (Life Force Soil Conditioner Natural Humic Acids for soil fertility) and LFSC-HB (Life Force Soil Conditioner Humate Balance for soil enrichment) on productivity of potato plant of early maturing variety 'arizina'. Two preparations have been provided by firm 'Life Force Ltd (Moscow). A field experiment was carried out on a potato plantation of the firm 'Agriko-Eurasia' in Moscow district on sandy soil with low humus content. Organic preparations were applied in to soil by hand in powder form in 50 g/sq. m dosage. Reaction of potato plants on the experimental treatment was assessed by measurement of chlorophyll a and b content in potato leaves, and number and mass of tubes per plant at harvest. Positive effect of preparation used on chlorophyll content in leaves and number of tubes peer plant was found. Prevailing number of tubes of small sizes (less than 30 mm) - 38% may be considered as negative effect for early maturing variety. Number of tubes greater than 50 mm may be assigned to stimulative effect of organic preparation LFSC-HA on tube formation may and to additional amount of phosphorus and potassium containing in the preparation as well. Additional evaluation of organic preparation produced by Life Force Ltd are needed to separate positive effects of organic substances and additional amount of mineral elements in it. Having in mind positive effect tested preparations on formation of bigger number of tubes there it is advisable to carry out experiments with late maturing varieties.
About the authors
Peoples' Friendship University of Russia (RUDN University)
Author for correspondence.
Email: nagvic@yandex.ru

-
Miklukho-Maklaya st., 6, Moscow, Russia, 117198
Peoples' Friendship University of Russia (RUDN University)
Email: yutska@mail.ru

-
Miklukho-Maklaya st., 6, Moscow, Russia, 117198
Peoples' Friendship University of Russia (RUDN University)
Email: gresislera@gmail.com

-
Miklukho-Maklaya st., 6, Moscow, Russia, 117198
References
Borisenko V.V., Zholobova I.S. Photosynthetic complex of Radish Plant as Affected by Application of the Enriched Biohumus 'Ecoss'. Science J. Kuban State Univ. Scientific Journal of KubSAU. 2015; 107: 77—85.
Dmitrieva E.D., Cyundyukova K.V. and oth. Biological Activity of Humus Substances of Sapropel from Upa River of Tula District. Chemistry of plant row materials. 2017; 1: 26—33.
Nagornyy V.D., Rusinaivu Nouruson Arimalala. Green Pigment Content and Dry Matter Accumulation by Potato Plant as Affected by Sulphur Fertilization in a Green House Experiment. RUDN Journal of Agronomy and Animal Industries. 2016; 3: 7—16.
Tulinov A.G. Potassim/Sodium Humat for Potato Fields. Potato and Vegetable J. 2015; 7: 31—33.
Tumanyan A.F., Tyutyuma N.V., Scherbakova N.A. Total Yield and Tube Size as Affected by Growth Promoters on Light Brown Soil at Low Volga District. RUDN Journal Of Agronomy And Animal Industries. 2014; 4: 38—46.
Murchalenko A.V., Svist V.N., Borisova N.P., Molyavko A.A. Humic Preparations and Polyazophos in Biological Potato Production. Bryansk State Agr. Academy. 2008; 4: 17—21.
Dmitrichenko E.F. Yield and Quality of Potato tubes as Affected by Humic Praparations on Dernovo-podzolic sandy soil. [Ph D]. Penza State Agr. Academy: 2008.
Chumanova N.N., Anochina O.V. Effect of Humus Preparations on Growth on development and productivity of Oat and Potato at Forest-Steppe area in Kemerod District. Vestnik Kemerov State Univ. 2015; 1—2 (61): 49—52.