Effectiveness of Lipomek 2%, a new long-acting antiparasitic ivermectin-based drug, in ruminants affected with siphunculatosis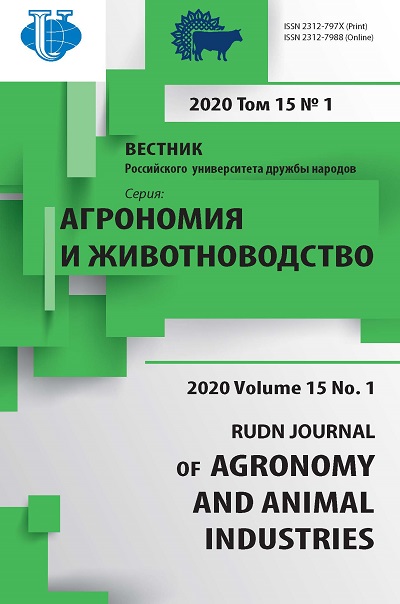 Abstract
The purpose was to study therapeutic properties of Lipomek 2% drug in animals affected with siphunculatosis, and to determine duration of its action against this pathology. To achieve these goals, 2 species of animals were used. Experiments were conducted at 2 different farms - Mygra and Fazenda, where 25 sheep (Lezgin breed) and 17 calves (Caucasian brown breed) were studied. Animal siphunculatoses are the most common parasitic diseases in Rutul village (Rutul district, Republic of Dagestan). The effectiveness of a new long-acting antiparasitic drug Lipomek 2% (ivermectin) against siphunculatosis in small and bovine animals was studied. A 1% solution of ivermectin also showed a good therapeutic effect which was manifested next week after injection and lasted 21 days. Lipomek 2% (ivermectin) showed 100% efficacy against siphunculatosis in sheep and calves. Duration of parasitocidal effect was maintained for up to 30 days (observation period). No signs of intoxication were observed after livestock treatment.
Keywords
About the authors
Moscow State Academy of Veterinary Medicine and Biotechnology
Author for correspondence.
Email: fat.kurban1995@mail.ru

postgraduate student, Department of Immunology and Biotechnology
Moscow, Russian Federation
Moscow State Academy of Veterinary Medicine and Biotechnology
Email: davud@mgavm.ru

Doctor of Biological Sciences, Professor, Corresponding Member of the Russian Academy of Sciences, Head of the Department of Immunology and Biotechnology
Moscow, Russian Federation
Moscow State Academy of Veterinary Medicine and Biotechnology
Email: dr.litvinoff@yandex.ru

Doctor of Veterinary Sciences, Professor, department of Immunology and Biotechnology
Moscow, Russian Federation
References
Zlotin AZ, Mishchenko AA, Prisniy AV. Main tasks and problems of protecting agricultural animals from harmful arthropods. In: Structural and functional changes in populations and communities in territories with different levels of anthropogenic load: Proceedings of the XII international scientific-practical eco-friendly conf., Belgorod, October 9–12, 2012. Belgorod; 2012. p. 78–80.
Ataev AM. Epizootology of helminths and ectoparasites in a cattle population in the foothill zone of Dagestan. The Bulletin of the KrasGAU. 2007. (8):14–18.
Novikov AA, Glazunova LA. Epizootic situation on the main entomoses of meat breed cattle in Transurals. The Bulletin of the KrasGAU. 2014; (12):154–157.
Plieva AM. Seasonal dynamics of cattle ectoparasites in climatic zones of the Republic of Ingushetia. Moscow: VIGIS Publ., 2006. p. 37–40.
Abuladze KI, Gildenblast AA, Dzasokhov GS, Moskvin SN, Pavlova NV, Potemkin VI. Diagnostika invazionnykh boleznei sel'skokhozyaistvennykh zhivotnykh [Diagnosis of invasive diseases in farm animals]. Moscow: Kolos Publ., 1972.
Shakhbiev HH, Shakhbiev IH, Taramova LV. Epizootological characteristics of cattle parasitoses in foothill zone of the Central Caucasus. Bulletin of the Chechen State University. 2017; (4):25–27.
Utyaganova AM, Fazlaev RG. Pathological changes in cattle skin affected with sifunculosis. Vestnik BSAU. 2014; (3):27–30.
Bittirov AM. Features of helminthiases and ectoparasitoses spreading in a population of cattle in foothill zone of the Republic of Kabardino-Balkaria. Proceedings of Gorsky State Agrarian University. 2009; p. 85–88.
Bordin EL, Bastos OP, Guerrero J, Newcomb KM. Efficacy of ivermectin in the treatment of equine habronemiasis in Brazil. Equine practice. 1987; 9(9):18–19.
Steelman CD. Effects of external and internal arthropod parasites on domestic livestock production. Annu Rev Entomol. 1976; 21(1):155–178. doi: 10.1146/annurev.en.21.010176.001103
Dobson A, Kutz S, Pascual M, Winfree R. Pathogens and parasites in a changing climate. In: Hannah L, Lovejoy T. (eds.) Climate Change and Biodiversity: Synergistic Impacts, Advances in Applied Biodiversity Science. Washington, USA: Centre for Applied Biodiversity Science, Conservation International; 2003. p. 33–38.
Dorny P, Praet N, Deckers N, Gabbriel S. Emerging food-borne parasites. Vet Parasitol. 2009; 163(3):196– 206. doi: 10.1016/j.vetpar.2009.05.026
Dobson AP, May RM. Patterns of invasions by pathogens and parasites. In: Mooney HA, Drake JA. (eds.) Ecology of biological invasions of North America and Hawaii. New York: Springer-Verlag; 1986. p. 58–76.
Food and Agriculture Organization of the United Nations. Distribution and impact of helminth diseases of livestock in the different countries. Available from: http://www.fao.org/3/T0584E/T0584E01.htm [Accessed 2 January 2020].
Chilaev SS. Seasonal and age dynamics of ectoand endoparasites of cattle in the Chechen Republic. In: Proceedings of Russian Scientific and Practical Conference of VOG. 2009. p. 259–262.